Named To The Civic 50 – July 1, 2021 –
Freeport-McMoRan
9th Consecutive Year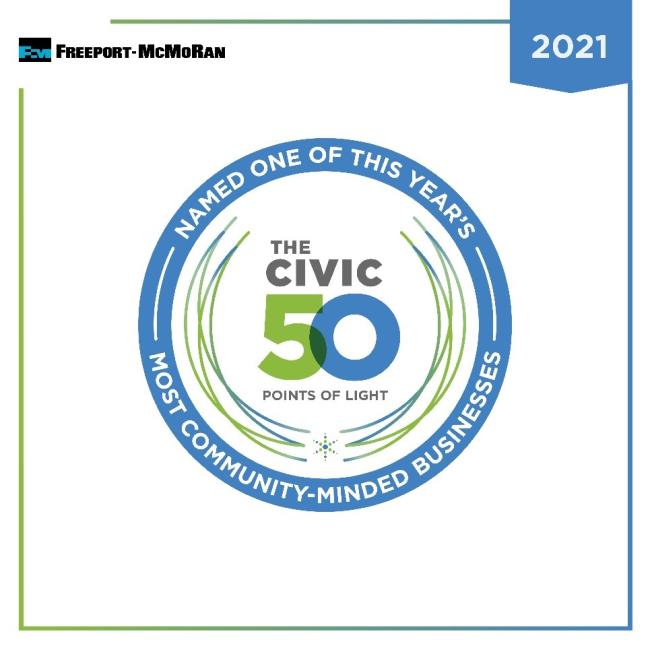 "July 1, 2021 /3BL Media/ – Congratulations to Freeport-McMoRan for being recognized for its commitment to community support and transformation. For the ninth consecutive year, Freeport-McMoRan has been named as a Civic 50 honoree."
(see more: Freeport-McMoRan/News)
Making Great Strides Toward Less Impact On Our World
The MRW Recruiting Website supports businesses and industries that are consciously aware about how they can be of service to the world by understanding how important maintaining our planet's resources are to all of our lives. We are proud to share job opportunities that are working toward humanity no longer harming the planet, by finding sustainable ways to help this lovely globe, and those of us that live on it, survive.
Freeport-McMoRan has shown it's dedication to getting the their Job Done, but with less impact on the planet. Nine years of servicing the communities in which they serve and enriching the area with their products and services, tells the story about how responsibly Freeport-McMoRan has shown it's dedication to the areas they service.
So What's It Like To Work With Such A Dynamic
Socially Responsible Business?
Learn about the great learning opportunities available for those people just entering the work world.
Be part of the future, with an innovative, forward-thinking, life-affirming business respected in the communities in which it serves.
Currently:
We Are Sharing Freeport-Mc-Mo-Ran -Job Opening For A